Now a well-established neighborhood complete with grocery stores, the Seaport District is far from done with its revolution. Some experts predict that with the pandemic, we'll see some national brands leaving the neighborhood opening the door for local businesses to move in which is considered positive. The pandemic has also brought the opportunity to see what the neighborhood really looks like as we're able to distinguish between the professionals who used to work in the big, glittery buildings and the actual residents creating a bigger sense of community and voice for the area, also a positive effect.


Area Attractions
Snowport




Every winter season the neighborhood transforms into a wonderland of safe, seasonal activities such as igloo rooftops, ice skating rink, curling, and art displays. The Snowport offers residences and visitors alike festive retreats without having to leave the city.


The Current




You do not want to miss this powerful pop-up village with a rotating selection of stores to shop. It's a fantastic way to learn about new brands, shop small, and support the local economy this holiday season and all year long.

Boston Harbor Walk


There are plenty of opportunities to get outside when you live in the Seaport such as the Boston Harbor Walk, a 43-mile park stretching along Boston's shoreline. The Harbor Walk connects Boston's waterfront neighborhoods to Boston Harbor and each other. It's ideal for walking, biking, and cycling.


Buildings to Know
The Echelon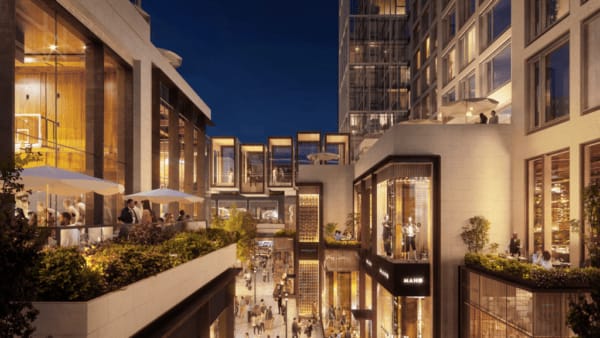 The Echelon Seaport will consist of 733 condos and apartments. Amenities will include indoor and outdoor pools, a full-service fitness center, a 24/7 doorman, valet, multiple common outdoor spaces, ground-level retail, and restaurants. Echelon Seaport is located within walking distance of all of the Seaport's restaurants including Ocean Prime Steakhouse, Lola 42, Strega Waterfront, Tuscan Kitchen, Scorpion Bar, Mastro's Ocean Club, Del Friscos, and Legal Harborside. Echelon Seaport is also next to multiple entertainment and nightlife venues including The Grand, Kings, and Showplace Icon Cinemas.
The St. Regis Residences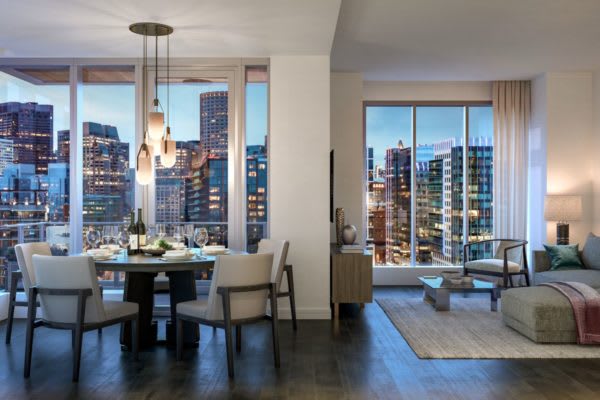 Opening anticipated in 2021, The St. Regis Residences promises to be one of the most luxurious, full-service residential developments in all of Boston in a boutique-like setting. Designed by Elkus Manfredi Architects and built by Cronin Development. The St. Regis Condominiums will sit directly on the water, with city and harbor views. The property will feature approximately 114 condominiums on 22 floors, Health Club, library, swimming pool, and spa. Many units will feature private outdoor spaces, floor-to-ceiling windows, state-of-the-art kitchens, top-of-the-line bathrooms, and hardwood flooring. Butler's personal service is touted as one of the standout features in addition to the setting and amenities.

Pier 4




Move-in today! Located at the site of the iconic Anthony's Pier 4 Restaurant, Pier 4 Boston houses 106 ultra-luxury residential units with private outdoor spaces and top-of-the-line finishes. Building amenities include garage parking, personal concierge services, fitness center, pet-friendly facilities including The Dog Spa, on-site dog washing room, and a private lounge with terrace overlooking the water – perfect for entertaining guests or enjoying the perfect night in.


Market Snapshot
A look at the Seaport sales year to date 2020 shows there were 213 sales with an Average Sale Price: $1,686,720 and an Average Price Per Square Foot of $1,472/SF. Sixty percent of the sales (128) were attributable to the new luxury condos at full-service Echelon Seaport with an Average Sale Price of $1,186,424 and Average Price Per Square Foot of $1,704/SF.

This compares to 2019 in which there were 250 sales, with an Average Sale Price of $2,148,587 and an Average Price Per Square Foot of $1,460/SF. Fifty-two percent of sales came from Pier 4 and Echelon Seaport combined: 95 sales at Pier 4 with an Average Price of $3,312,786 an Average Price Per Square Foot of $1,908/SF and 36 sales from Echelon Seaport with an Average Sale Price of $1,506,195 and an Average Price Per Square Foot of $1,512/SF.

While there has been a decline in the absolute number of sales in the Seaport (-14.8%) with roughly two weeks remaining in the year, we will see how the year nets out. Sales in 2020 may have stalled somewhat due to Covid, but the stats are still impressive. With a vaccine on the horizon comes the return of what drives people to city life which should bode well for 2021.